Australian insurers write 43 million business and household policies each year and pay out $166 million in claims every business day. Globally, the insurance industry plays a critical role in preserving our way of life.
'By sharing risks over many shoulder, the insurance industry has protected society, shaped markets and underpinned economic development.'

– Achim Steiner, UN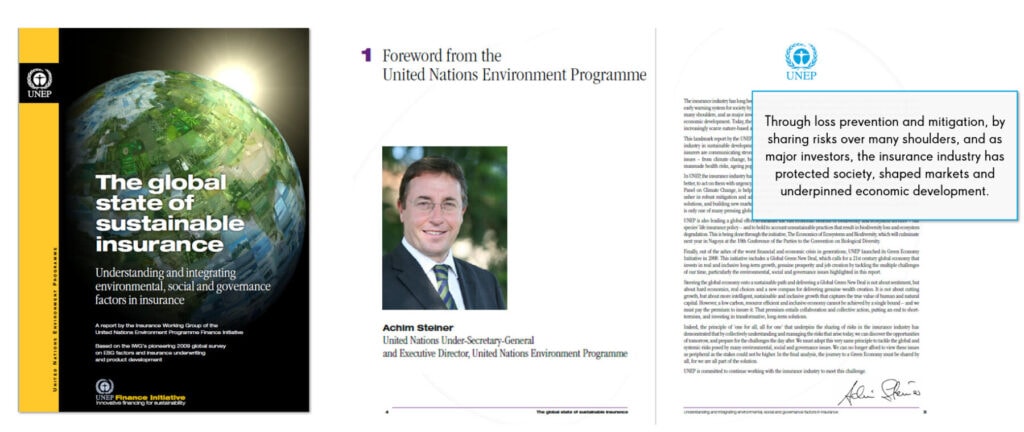 'No other sector takes a longer term or more carefully calculated professional view of the future. Their approach to sustainability is therefore of fundamental importance.. to the whole of society.'

– King Charles III.
Society has long benefited from a reliable and stoic multi-trillion USD insurance industry and we need the insurance industry now more than ever.
Increasing Annual Global Natural Catastrophe Events
Increasing Annual Global Economic Losses (USD bn)

The Insurance Industry is vulnerable – an opportunity exists
However, the insurance industry is vulnerable at a time when it is most needed. New and emerging risks are now more frequent, more severe and challenging to model and none more-so than natural catastrophes in this post climate-change era.
2021 Global Natural Catastrophe Losses $250bn USD.
2021 Global Natural Catastrophe Insured Losses $105bn.
Protection Gap $145bn.
The insurance industry is contracting, at a time when society needs the industry to augment.
In 2020, the total protection gap across all loss categories reached $1.38tn USD.

Much of the strength of the insurance industry lies in its underwriting nous, which uses historical data to model losses. With the quickening pace of emerging and unpredictable risks, historical data sets are increasingly unreliable.
Other factors contributing to the widening protection gap include:
Inflation is driving up claims costs
(Re)insurers are pulling capacity in many areas due to excessive losses
As premiums are adjusted, insurance affordability becomes an issue
The effect is compounding.
Society has a possible solution, however. FinTech has a nerdy, unassuming cousin – Insurtech. Insurtech is a start-up vertical that is responding to societal and insurance industry problems with a broad array of talent, technology and innovation.
Venture capitalists and founders reference the $1.38tn USD protection gap as a blue ocean opportunity, and the incumbent multi-trillion dollar insurance industry as a compelling market for collaborative disruption, given low levels of innovation historically.
Insurtech founders come from a vast range of disciplines:
AI Engineers
Neuro Scientists
Earth observes
Aerospace Engineers
Climate Scientists
Farmers
Mechanical Engineers
Physicians
Four ways in which insurtechs are helping include:
Deploying various technologies to reduce the cost to serve and in doing so, making insurance more affordable and accessible.
Unearthing higher fidelity data to inform smarter underwriting and, in-turn shifting a significant cohort of the uninsurables to the insurables.
Creating new products to address emerging risks sooner and more effectively.
Creating a shift in thinking among insurance stakeholders, including consumers. The shift from risk transfer and remediation to resilience and prevention is to 'strike at the root' of economic insurance challenges.
Two new products examples that help reduce loss frequency and severity:
Parametric insurance – the process of acquiring a parametric insurance product often involves a business owner determining their levels of risk tolerance and planning mitigation measures in the event of a threat.
Cyber insurance – leading cyber insurance products will begin with a pressure test of a business cyber vulnerabilities. Before a risk transfer cost is applied, mitigation work is often undertaken to improve the risk profile.
Two examples that show how Insurtech Gateway companies are helping to reduce the protection gap:
IBISA
IBISA – 98% of smallholder farms do not have access to insurance. This is concerning, as 500m smallholder farmers produce 70% of the world's food supply.
The difficulty with existing insurance frameworks is in the economics; the cost to deliver the product is too high given the small premiums that farmers can afford.
IBISA solved this by using; platform technology and local distributors to provide access to smallholder farmers, and space technology to reduce the cost of of claims assessment.
FloodFlash
FloodFlash – Parametric flood insurance is helping to close the protection gap for business owners. Parametric flood cover is flexible and offered to those who may not otherwise have access to affordable flood cover. Claims are paid in hours, not months. And, because insurers save on loss-adjustment costs and uncertainty about potential claim sizes, the $200bn USD catastrophe losses that go uninsured every year can be insured for the first time. The result is that more people are recovering from catastrophe.
If you are a founder looking to explore opportunities in Insurtech then reach out and make a time to pitch to our team – www.insurtechgateway.com
References:
Insurance Council of Australia